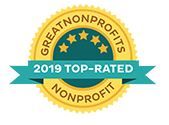 Our Impact
Recent studies show that the number of homeless kids and kids living in poverty is on the rise in both the city of Chicago and the suburbs. My Joyful Heart provides assistance for this often overlooked group – children in need in our own backyard. 
Living in poverty is more than an economic issue; it affects children emotionally, physically, and spiritually. Overall, the effects can be devastating and children can suffer from a loss of hope. My Joyful Heart's goal is to be a positive influence in the lives of these children by making them feel special, providing comfort, and bringing hope. 
Children enrolled in our program have told us the gifts we give have impacted their self-esteem, school attendance and performance, and have given them confidence to become more social. Recently, one of our former program kids called us and told us that because we cared for him, he became the good person he is today. 
 
Social workers from our partnering schools have told us that the "trauma kids" (those who have been alienated and have no emotional family ties) we have helped have shown a sense of belonging and were less likely to seek support from outside negative sources such as gangs. 
 
Parents of children enrolled in our program have reported that My Joyful Heart has helped their children's health and confidence. 
 
Teachers have cited My Joyful Heart as being instrumental in creating better attitudes in the classroom.