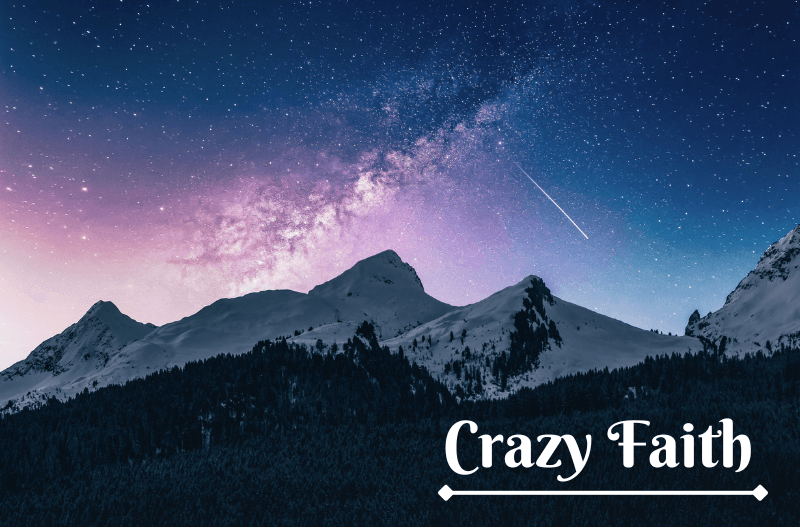 Are you looking to increase your faith and learn how to trust God with the impossible?  Come join our new Bible study CRAZY FAITH, by Michael Todd
starting January 24th
Tuesday mornings from 8:15-9:45
at My Joyful Heart, 9981 W. 190th St. Suite I in Mokena.
Will you be remembered as a person who claimed to follow God but liked to play it safe? Or as a person who lived your life out on the limb and trusted God enough to live in crazy faith?
In Crazy Faith, Pastor Michael Todd shows us how to step out in faith and dive into the purposeful life of trusting God for the impossible. Even if you have to start with baby faith or maybe faith, you can become empowered to let go of your lazy faith, trust God through your hazy faith,
During this study we will:
learn to believe for the impossible learn to believe for the impossible
choose hope over fear 
be alert to the voice of God
cope with loss and doubt
develop a deeper level of trust in God
speak faith-filled declarations
inspire crazy faith in others
live a lifestyle of crazy faith. 
This 11-week study will center around videos with Michael Todd and discussion questions. If you would like to purchase the corresponding workbook, it is listed below. The workbook is not required to participate in the study, however, it will allow you to dive a little deeper and do some personal reflection. The workbook provides 5-8 pages of corresponding "homework" that you can do on your own.
Click here to purchase the workbook
We will be using the Remind group app to communicate information about this study. If you are interested in joining us, text @crazyfaith to the number 81010.