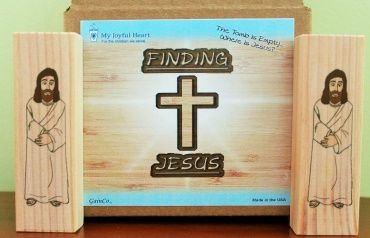 Finding Jesus Game
Want your children to have a more meaningful experience on Resurrection Sunday? Give them the Finding Jesus game!
 
Diane Carroll writes:
"Ever since my grandchildren were little, they have been "Finding Jesus" on Easter morning. It all started when I decided that eggs didn't have anything to do with Resurrection Sunday and I needed to change that. I still wanted to give my grandchildren a fun and meaningful memory, so I hid pictures of Jesus throughout my home. I told them that they had to find Jesus just like the disciples did after they saw the empty tomb. I asked them "where do you think Jesus is?" And the search to find Jesus began!  As the years have gone by and my grandchildren have gotten older, they still ask on Resurrection Sunday "are we going to find Jesus?"  It is now a family tradition."
Would you like to start your own family tradition?  The Finding Jesus game containing 7 wood Jesus figures  is available for pick-up at My Joyful Heart for $10.00 or we can ship for an additional $10.
---