Current Fundraiser - Manna Express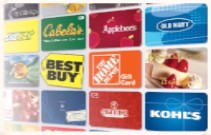 Use Manna Express gift cards when you shop!  Shopping with Manna Express is easy, fast, and convenient and you can purchase gift cards from stores you already patronize. Click here http://mannaexpress.net/order-forms.html for the latest Manna form and send your form and payment to My Joyful Heart.
Order forms are due by 9:00 a.m. on the 4th Monday of the month. Cards will be ready for pickup by Wednesday of the same week so you can start shopping right away. There are so many good reasons to purchase Manna gift cards:
They make great gifts—gift cards are always the right size and color.
You can use them for your own shopping and never worry about credit card fraud.
With EVERY gift card purchased a portion of your purchase is given back to My Joyful Heart.
You will feel good about helping children in need every time you shop!